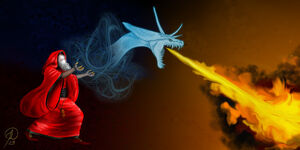 The Anagogis is a branch of sorcery that turns on the resonance between meanings and concrete things.[1] It uses creative metaphors to implement sorcery.
The Anagogis is generally considered inferior to the Gnosis because it works through Analogies as opposed to Abstractions: the Anagogic sorcerers can summon only an imitation of a dragon which spews out fire, while Gnostic sorcerers can summon heat itself.
Anagogic Schools
Edit
The Dragonhead
The Houlari Twin-Tempests
The Iswazi Cant
The Memkotic Furies
The Meppa Cataract
The Portcullis
The Ramparts of Ur
The Uruborian Circle
The branches of sorcery all take their names from Greek words. "Anagogis" comes from the Greek word "Αναγωγής," meaning "Comparison."
References
Edit
↑

Encyclopedic Glossary, 'Anagogis'
Ad blocker interference detected!
Wikia is a free-to-use site that makes money from advertising. We have a modified experience for viewers using ad blockers

Wikia is not accessible if you've made further modifications. Remove the custom ad blocker rule(s) and the page will load as expected.