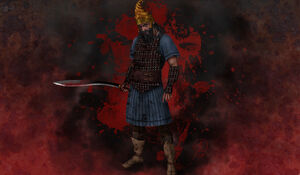 Kosoter is head of the Skin Eaters and elju to the Nonman Nil'giccas.
Appearance
Edit
He is described as having a square beard.
What Came BeforeEdit
Kosoter participated in the Holy War. After the Battle of Em'famir, Aspect-Emperor Anasûrimbor Kellhus gave him the name "Ironsoul."[1]
After the Holy Bounty on Sranc pelts was announced, he founded the Skin Eaters.
The Judging EyeEdit
Kosoter's group, the Skin Eaters, are hired by Drusas Achamian to raid the legendary Coffers of the ruined Library of Sauglish.
The White-Luck WarriorEdit
Kosoter, like the rest of the Skin Eaters, becomes addicted to the qirri dispensed by Nil'giccas.
He is ultimately slain in the ruins of Sauglish when his men Galian and Xonghis betray him.
References
Edit
↑ The Judging Eye, Chapter 6
Ad blocker interference detected!
Wikia is a free-to-use site that makes money from advertising. We have a modified experience for viewers using ad blockers

Wikia is not accessible if you've made further modifications. Remove the custom ad blocker rule(s) and the page will load as expected.