The Nations of The Three SeasEdit
Eastern Three SeasEdit
Conriya is a Ketyai nation in the eastern Three Seas. Founded after the collapse of the Eastern Ceneian Empire, it is based around the ancient capital of Aoknyssus. Nowhere is the caste system more strictly enforced than in Conriya.
Galeoth is a Norsirai nation on the northern edge of the Three Seas, founded by the descendants of the White Norsirai from the Apocalypse. Its capital is Oswenta, and its people have a reputation for fractitiousness and treachery.
High Ainon is the dominant Ketyai nation of the eastern Three Seas. It was founded after the collapse of the Eastern Ceneian Empire and has been ruled by the Scarlet Spires for near a thousand years. Most populous on the continent, the Ainoni are a highly cultured people.
Western Three SeasEdit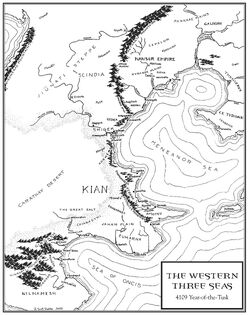 The Nansur Empire is a Ketyai nation of the western Three Seas and the inheritor of the enormous Ceneian Empire. At the height of its power, the Nansur Empire extended from Galeoth in the north to Nilnamesh in the south, but it has been much reduced by centuries of warfare against the Fanim of Kian.
Kian is the most powerful Ketyai nation of the western Three Seas by far. Alone in the Three Seas, its religion is Fanimry. Extending from the southern frontier of the Nansur Empire all the way to Nilnamesh, Kian was founded relatively recently and expanded through conquest.
The Far WestEdit
Zeüm is a large and mysterious nation in the west, far beyond the Three Seas. Its people are black-skinned and little is known of it.
Ad blocker interference detected!
Wikia is a free-to-use site that makes money from advertising. We have a modified experience for viewers using ad blockers

Wikia is not accessible if you've made further modifications. Remove the custom ad blocker rule(s) and the page will load as expected.